Virtual events can utilize virtual reality (VR) and the Metaverse so you can host a memorable event that also trains your attendees in all things cybersecurity.
Here, we'll showcase the future applications of the Metaverse for cybersecurity events, the benefits of VR, and key considerations for hosting cybersecurity virtual events for your organization.
The Next Phase of Virtual Events: Metaverse
As explained by MeetingPlay + Aventri, the Metaverse is "a persistent and immersive 3D environment that makes extensive use of new and emerging technologies like virtual and augmented reality." Although immersive 3D games are perhaps the most well-known examples of using the Metaverse, mixed use of this virtual space is becoming more popular.
For example, the Meta Festival in "Metapolis" is a virtual reality festival that spans the globe with featured content specific to every timezone on a number of topics, all viewed through VR headsets.
Given the growing popularity, it's likely that corporations will continue to increase their use of the Metaverse for virtual events. In fact, Bill Gates has said in his personal blog, "Within the next two or three years, I predict most virtual meetings will move from 2D camera image grids…to the Metaverse, a 3D space with digital avatars."
Benefits of Virtual Cybersecurity Events
Hosting a VR event has the benefit of fully engaging the audience about cybersecurity, a topic that may not initially excite many employees. This gives you a better return on investment (ROI), as engaged attendees are more likely to actively apply what they learned.
Virtual reality events provide hyper-realistic environments and the ability to interact with other avatars and items. A virtual cybersecurity event can include exciting activities such as:
Scavenger hunts.
Virtual "rooms" that make the hundreds of viewers feel like they are watching the cyber security speaker up close in small, relatable groups.
Interactive Q&A sessions with avatars.
On top of providing activity participation from anywhere in the world, virtual events provide greater audience insights than standard cybersecurity events. For example, depending on your virtual reality event platform, you may be able to see which activities the audience gravitated towards the most as well as engagement levels between audience members.
Hosting a VR Cybersecurity Event
Hosting a successful VR event takes some strategic planning to make sure it runs smoothly and gives your organization the full benefits of cybersecurity awareness training in a virtual environment. Here are some considerations before you get to planning:
Budgeting
An additional budget may be required to host a VR event that can be accessed by all guests. Providing VR headsets to your audience members can make it easy to ensure full participation, but it's important to ensure your cybersecurity virtual event can be streamed to all regular devices in case any of your attendees experience technical issues or are unable to obtain a VR headset.
Make sure you choose what you can and can't provide for your attendees and work it into your budget. Another consideration is using an agency to host your event, as well as hiring key speakers. Keep in mind that "you get what you pay for'' applies to virtual events too.
Cyber Security Keynote Speakers and Agencies
Having a respected, experienced speaker can make a significant difference when looking at your ROI for any event. However, when it comes to implementing newer technology for a virtual event such as VR, it's best to work with a cybersecurity speaker who has experience in hosting virtual and VR events. This will ensure your event utilizes the Metaverse to its fullest potential.
To coordinate the necessary tech, your virtual event speaker, and your event attendee participation, consider working with a VR event agency that can help you carry out a successful event.
Kevin Mitnick Uses Technology To Keep Audiences Glued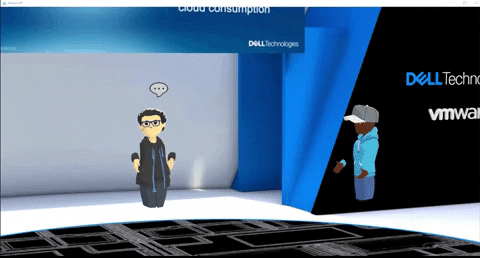 In a recent virtual cybersecurity event hosted by Dell Technologies, Kevin Mitnick addressed Dell employees about cybersecurity trends through the Metaverse using an avatar.
Although there were hundreds of avatar viewers present, multiple instances of small rooms and stages were used to make the experience feel personable. The interactivity led to a more engaging and immersive event, making it arguably one of the best cyber security events hosted to date.
Host a Flawless Cybersecurity Virtual Event
Hosting an elaborate, company-wide event can motivate your employees to take a deeper look at cybersecurity and prepare them for any threats cyber criminals may pose to your business.
When you include the Metaverse, this motivation can multiply and create a safer employee environment. That's why it's crucial to plan ahead and consider ways to host the best virtual cybersecurity event possible.
Make your next virtual cybersecurity event one to remember by downloading a free copy of the Ultimate Guide to Virtual Events ebook today.