If you are looking to book a cyber security speaker, there's a strong chance you are considering a digital broadcast. After all, the COVID-19 pandemic has made it nearly impossible for event planners to host in-person events.
But as social distancing restrictions ebb and flow, it begs the question: should I host my event online or in-person now?
Beyond the COVID-19 risks, there are a number of solid reasons to host a cyber security training, educational workshop, or hacking demonstration virtually. Here are five benefits that digital events offer that in-person events may not:


1. Attendance Metrics
Event organizers typically ask for registration prior to attending a cyber security event as to not oversell seats based on the venue's capacity. In-person events, however, can make it more difficult to see who actually attends— and for how long. Not all in-person event hosts keep a running tally of those who showed up, only looking for proof of registration at the door, but not keeping track of the specific names. Even if they do check for names, it's harder to keep track of who stays for the entirety of the event.
Virtual event platforms can capture information about who clicked the event's attendance link, AKA "attended." Additionally, because some hosting platforms offer insight into whether or not attendees are engaged you can see who left part-way and even who started to "tune out". This is extremely valuable after employee training virtual events to see who did not fully attend in order to enforce your education.
2. More Attendees, No Venue Limitations
Part of the reason hosts requires registration for cyber security events is because of limitations surrounding the venue. There are only a certain number of people who can be seated in the space— and larger venues come with a higher price tag.
When hosting a virtual event, however, there are rarely caps on the number of attendees. This is especially helpful for larger organizations or events with thousands of attendees to consider. For instance, our very own Kevin Mitnick consistently books presentations with over 5,000 registrations— which would require a giant venue to accommodate. With a virtual event, it is easy to make room for more attendees versus finding a new venue.
COVID-19 restrictions have also been causing large-scale events to either be significantly downsized or rescheduled, leaving virtual cyber security events as the only realistic way to reach the most people, safely.
3. Fewer Restrictions When Choosing the Cyber Security Speaker
When choosing a cybersecurity speaker for an in-person event, there are headaches to consider. Some speakers will only present at certain locations, restricting you geographically or completely eliminating them as a choice. Even if the speaker would be willing to travel for the event, in-person speakers often require transportation and accommodation costs along the way.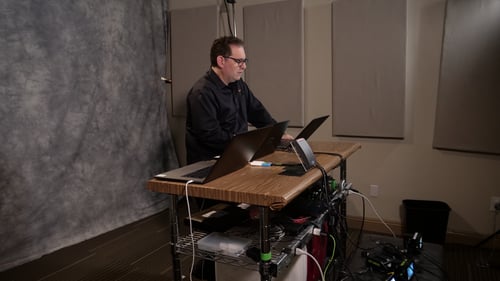 When booking a virtual speaker for an event, this person can broadcast from any location. For instance, our very own Kevin Mitnick can broadcast from anywhere in the world to companies within the United States.
But sometimes having too many choices can equally be overwhelming. The good news is, when vetting a cyber security speaker for a digital event, you may notice that not everyone is qualified for the job. Some presenters do not have previous experience hosting virtual events and are unfamiliar with the video hosting platforms. And that's just the start. Here are seven other things to consider before booking a speaker for a virtual event.
4. Feedback from the Event
At in-person events, there isn't always an opportunity to share constructive feedback during or after the presentation. To save time, many presenters ask the audience to hold their questions until the end— and sometimes guests hang around for an FAQ session after the presentation, but not always. More often, people leave without sharing any details about their experiences.
During a virtual broadcast, it's easier and less invasive for attendees to leave their questions in a built-in chat feature for the presenter or emcee to go through at the end. This way, the questions can be asked as they arise and no inquiry is forgotten. If the presentation is recorded, those who could not stay for the FAQ can always watch it later to be sure they didn't miss any important discussions.
Plus, this leaves room for post-event follow-up for questions that need a little more time and explanation to respond!
5. A Reusable & Trackable Recording
The whole point of posting an in-person event is that guests experience the moment live. But it's often not possible for everyone to travel or gather in a group setting for a staged conference. When attending virtual events, many of the same challenges do not apply. Not only can an audience member attend from the comfort of their home, those who cannot make the live broadcast can watch the recording later.
Suddenly a cyber security awareness training presentation doesn't have to be a stressful coordination between departments— all trying to find a time that works for everyone. Employees who couldn't attend can simply watch the virtual event later. Even those who did attend have a reliable recording to rewatch and take notes.
Companies can also choose to upload the presentation to a specific URL, which allows you to track who is viewing and engaging with your video after the live broadcast. This makes it easy to hold people accountable for watching the presentation even if they could not attend the live broadcast.
On the flip side, you can also use virtual event recordings that were co-sponsored by your company in your marketing materials, making your efforts dual purpose.
Need Helping Picking a Speaker?
Choosing a virtual speaker is very different from hiring an in-person presenter for your cyber security event.
You'll want a good storyteller to engage participants behind a screen and someone who can make a virtual conference feel like a premium experience, without needing to leave the desk.
Download our guide Choosing the Right Cyber Security Keynote Speaker to know all the right things to ask while vetting your next big presenter.