This past year, event planners have made a huge shift in the way they host events. With the COVID-19 pandemic forcing events to go digital, bookers quickly left their old on-stage talent behind to focus exclusively on hosts experienced in online webinars, presentations, social events and workshops.
As you've probably come to realize, hosting a virtual speaker is an entirely different ballgame than organizing an in-person event. But one thing that hasn't changed is the demand for high-quality talent to engage your audience. In fact, it's even more crucial to find a presenter with charisma and knowledge that translates from stage to screen.
If you're on the hunt for a cybersecurity speaker to educate your viewers on the latest threats, it's important to weigh your options. Cybersecurity is an especially tough topic to get viewer buy-in for. You need a speaker up for the challenge of educating while engaging— who can hold the interest of remote attendees, with an easy-out should they find the broadcast boring.
In the past, you may have made connections at networking events, but those in-person meet-ups aren't really an option in 2021. So now what? Where do you find cybersecurity speakers to choose from online?
Here are a few places you can start your search:
Start with National Speakers Bureaus
Think of a speakers bureau website as a one-stop round-up of presentators. These groups showcase popular speakers, giving presenters individual profiles to promote their accolades, presentation decks, contact info, etc. You can even read reviews on some.
Bureau websites often group the speakers by the various topics, organized by the subject(s) they specialize in so that event planners like you can easily view popular choices in one convenient place.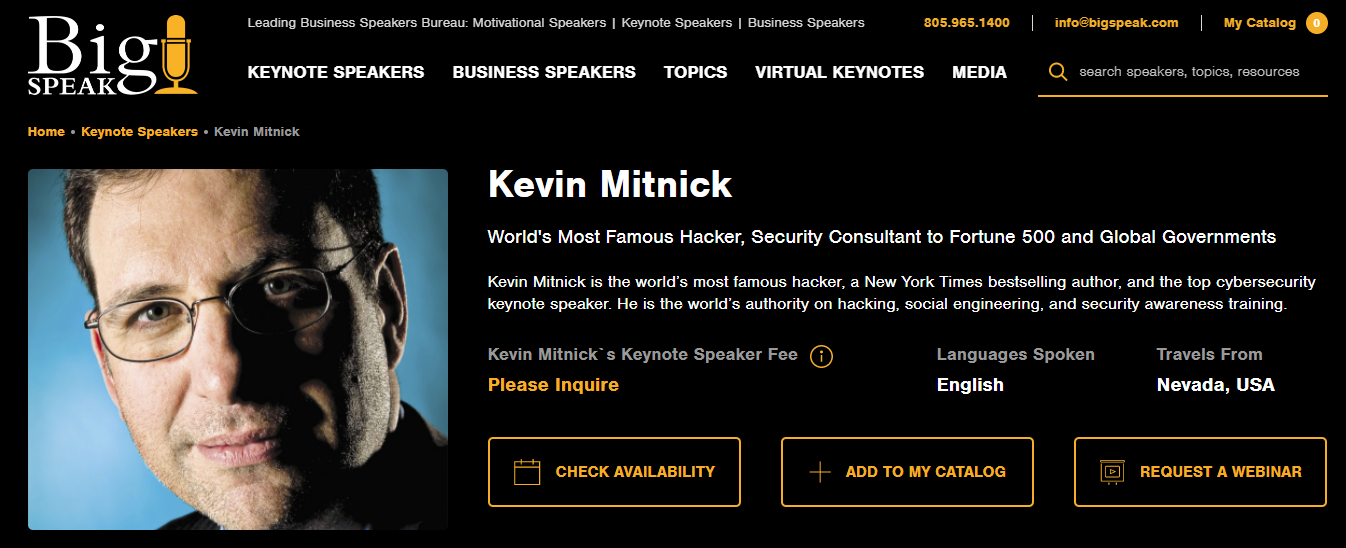 While there are dozens of speaker's bureaus to peruse, for cybersecurity speakers, here are a few reputable hubs to choose from:
Why so many?, you may wonder. You'll notice that the majority of these sites list the same presenters, however, the speaker may have built out a slightly different profile on each separate bureau.
After narrowing down your choice of speaker, you may want to cross check their profiles across popular speaking sites to discover new information or validate your initial findings. While not technically a bureau, eSpeakers is another excellent community for finding cybersecurity speakers.
Is lead generation an important goal for your digital event? Here are five tips for choosing a cybersecurity speaker for a lead gen webinar.

Leverage Referrals
Never, ever underestimate the power of a referral from a trusted source. If you have connections within the cybersecurity community, don't be shy to ask who they would recommend for your digital event.
Different speakers may be better suited for your budget or the particular subject matter you hope to cover, so be sure to share a few details about what you're envisioning to help your referrer refine a recommendation. For instance, one cybersecurity speaker may be better known for their live hacking demonstrations while another may be a master of social engineering theory, drastically influencing your search.
Even if you don't know many professionals within the cybersecurity industry, it can't hurt to post about your interest on LinkedIn or other networking sites. All it takes is for one connection to know the right person, or for a quick social share that expands your request to a wider community.
New to booking speakers for virtual events? Here are eight things to look for when choosing a presentation for an online webinar.

Dig Deeper on Speakers' Online Presence
Be sure to branch out beyond their speaker bureau profile and referrals:
Check their Website
After selecting a few options, head over to each contender's individual website to poke around. Their website should be a huge resource for learning more about their past and present speaking gigs, reading testimonials, accessing downloadable resources like their booking guide and more.
Head to Social Media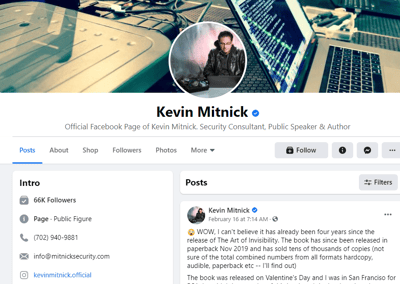 Check out their social media profiles too like their LinkedIn or Facebook. What do they post about? Look to see if they are merely a thought leader or if they interact with their audience online. Unanswered responses or a lack of interest in the cyber community could be a red flag.
Sometimes you can even find their competitors by seeing Similar Pages or by following comment threads to wider your search.
Pick Up Additional Resources
You're hiring a cybersecurity speaker mainly for their educational materials, so see what they produce beyond the stage for clues as to what to expect. If the speaker hosts a podcast, tune in for a few episodes. If they're a YouTuber, watch some videos. If they're an author, pick up their book or check out its reviews on Amazon or Goodreads.
Weed Out Your Options
While it's important to check out the different websites for finding cybersecurity speakers, it can be overwhelming to see dozens of options if you don't know how to whittle them down.
There are a lot of factors to consider— all of which will influence your final decision— such as:
Your time span for booking
Your audience
Whether to choose a celebrity or a thought leader
Your budget
Etc.
In our Choosing the Right CyberSecurity Keynote Speaker ebook, we detail important considerations and questions to make your decision a little easier.
Download your very own copy, today.